Dr. Paul Hsu is a Guardian of the Dream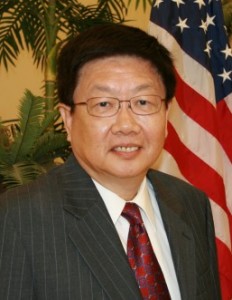 Paul Hsu recently authored Guardians of the Dream: The Enduring Legacy of America's Immigrants, a narrative of his personal journey which reflects his optimistic vision of the opportunities that exist in America for those willing to work hard to achieve their dreams.
At the age of 24, Paul Hsu left his native Taiwan and immigrated to the United States. Within 12 years, Dr. Hsu founded Manufacturing Technology Inc. (MTI), an avionics and battlefield electronics company which served the U.S. Department of Defense. Following MTI, he founded three more successful companies. They include Total Parts Plus, Inc., an internet-based data content company providing electronic component research services and data management applications; ActiGraph, LLC, an electronic medical device manufacturer which develops products that collect biometric data used to assess sleep levels/patterns, drug research, and cardiac rehabilitation; and HSU Enterprise Group, LLC, an environmental engineering and renewable energy company specializing in clean coal production and energy efficiency technologies.
In 2007, Paul Hsu was appointed by President Bush as the Associate Administrator of the Office of Government Contracting and Business Development. Three years later, Dr. Hsu was appointed by President Obama as a member of the National Minority Business Advisory Board. Currently he works at Harvard University Asia Center as a Senior Research Fellow on Energy Efficiency.
Guardians of the Dream re-establishes that immigrants are an integral part of the American texture, and as such, are guardians of a lasting legacy. Paul Hsu believes that at its heart, America has always been — and continues to be — an immigrant nation.
Return to Famous Immigrant Birthdays in August