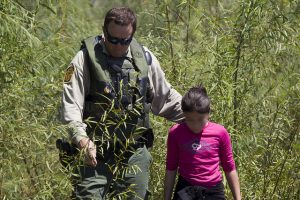 Frustrated by a lack of progress on immigration reform from Congress, President Obama announced that he would be "going it alone" by using executive action to change policy. Changes could come this summer.
But what does that mean? For a window to possible executive action, CitizenPath examined a confidential memo issued by the Congressional Hispanic Caucus. The six-page memo was written in April and sent to Department of Homeland Security Secretary Jeh Johnson. (DHS includes agencies like ICE and USCIS.) Leaders from the Congressional Hispanic Caucus make five suggestions for executive actions the president can take:
1) DACA should be expanded to undocumented immigrants who are low-priority American workers and families who benefited from the Senate's immigration reform bill (S.744).
The recommendation specifies that parents and siblings of DACA recipients and parents of U.S. citizens or permanent residents should be protected from deportation. The measure seeks to preserve family unity and stop the separation of parents from their children. Approximately 5,000 children are in foster care because their parents are detained or deported.
2) Extend Parole in Place to other undocumented immigrants.
Parole in place is currently used to protect family members of U.S. military personnel. The request would expand the policy so that other categories of immigrants (such as DACA recipients) would be able to pursue a green card through marriage without exiting the country and triggering the 3- or 10-year ban.
3) Permit Adjustment of Status for DACA and TPS recipients granted advance parole.
This recommendation would enable DACA and TPS recipients to leave the country on advance parole for purposes of returning to the U.S. to pursue a pending application for adjustment of status without triggering the 3- or 10-year ban.
4) Expand Humanitarian Parole to parents and siblings of DACA recipients and immediate relatives of USCs or LPRs outside of the United States.
This would allow family members who are outside of the United States, most of whom have been removed, a way to reunite with their families in the U.S. Immediate relatives of U.S. citizens would be able to pursue a green card once granted this humanitarian parole.
5) Allow DACA recipients, TPS, Asylees, and Refugees to enlist in the military.
Under existing enlistment requirements, one must generally be a U.S. citizen or permanent resident to serve in the U.S. military. This recommendation would open enlistment up to several additional categories and provide them with a path to citizenship.
Additional Resources
DACA Resource Center
Parole in Place
Military Enlistment Requirements