Employment Authorization as an Adjustment of Status Applicant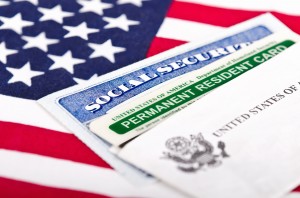 An Adjustment of Status (AOS) is an application filed by an alien who is physically in the United States and wants to adjust his or her non-immigrant status to immigrant status without having to return to their home country. Once the alien's AOS application is approved, he or she becomes a lawful permanent resident with a green card. If you have submitted Form I-485, Application to Register Permanent Residence or Adjust Status and are awaiting an answer, you are an Adjustment of Status applicant. During the lengthy AOS process, the non-immigrant alien may have a need to work in the U.S. To do so, he or she will need to apply for an Employment Authorization Document, better known as a work permit.
How to Get an EAD Based on Adjustment of Status
Confirm Eligibility

If you have filed Form I-485 and now have a receipt notice or other evidence that your Form I-485 is pending, you are eligible to apply for an EAD based on adjustment of status.

Complete Form I-765

Prepare Form I-765, Application for Employment Authorization. File Form I-765 with a copy of the receipt notice and any other documentation requested in the application.

Begin Work

Once you have obtained your EAD (work permit), you may accept employment anywhere in the U.S.
You can find additional information regarding Form I-765 and Employment Authorization Documents on the USCIS website or our I-765 page. If you choose to prepare your I-765 application with CitizenPath, we will guide you through the form using simple, everyday language and step-by-step instructions. Try it for free.