If you're undocumented in America, its second nature to fear the unknown. After all, you have lived for years with the fear that the next innocent trip to the market could end with a traffic stop by police, or a visit to your kids' school could expose you. These chance meetings with law enforcement could end up with you in detention or even deportation. For many, there is a new opportunity to end that fear.
The new Deferred Action for Parental Accountability (DAPA) program will provide benefits to nearly five million undocumented immigrants they've never had previously. DAPA was introduced through Present Obama's executive action in November 2014. The program will be implemented by U.S. Citizenship and Immigration Services (USCIS) and available to applicants in the May 2015 time frame.
Recently, USCIS Director Leon Rodriguez spoke to attendees at the National Immigrant Integration Conference is Los Angeles, Calif.
"For all those people who are thinking about participating in a deferred action program: Stop worrying. Participate with confidence," Rodriguez said in Spanish. "Remember that in every moment that an American president has created a new immigration program, that program has been respected by other presidents."
Consider these five reasons to be unafraid:
Legal Documents & Benefits

DAPA will help almost 5 million immigrants come out of the shadows. Many immigrants have never had any type of legal state-issued identification documents. As a DAPA recipient you will be provided:

Protection from deportation
Employment authorization card (work permit)

These benefits will be granted for a renewable three-year period. But there are other significant reasons to apply. Once granted DAPA, you will also have access to:

Social Security card
State driver license (most states)

The Obama administration has indicated that immigrants with a DAPA grant will also be eligible for Social Security and Medicare benefits just like any other taxpayer.

If future immigration reform includes a path to citizenship for undocumented immigrants, most experts agree that people who participate in programs like deferred action will be the first in line. These documents could serve as evidence for future programs; the documents are official identification cards and help prove your physical presence in the U.S.

DAPA Information & Privacy

USCIS Director Rodriguez has stated on multiple occasions that the personal information of DAPA applicants will not be shared with the Immigration and Customs Enforcement (ICE) agency. (ICE is the federal agency in charge of enforcing immigration law.)

"The only circumstances under which information is shared with ICE is in the event that somebody has either a disqualifying criminal history or is somebody who we determine to pose a threat to national security. Otherwise that information as a matter of our protocols is kept confidential," said Rodriguez.

If you have a criminal record, you should be cautious of DAPA. Before applying for DAPA, it is very important to understand how past behavior may impact your eligibility for the program. If you believe you have a criminal record, speak to an experienced immigration attorney before requesting DAPA. Only undocumented aliens convicted of certain crimes may risk being denied deferred action and/or deported.

In general, DAPA applicants without a felony conviction or more than three misdemeanor convictions will qualify.

Proof that Deferred Action Works

Once you have been granted DAPA, you will have protection against deportation. It is reassurance that you will not be separated from your family and can remain in the U.S.

When the Deferred Action for Childhood Arrivals (DACA) program was introduced, many eligible immigrants had their doubts. There was understandable fear and caution. However, the government has kept its promise; DACA applicants are not being deported.

Not only are DACA applicants protected from deportation, they are also thriving. They've benefited with employment authorization cards (work permits), Social Security cards, and driver licenses in many cases.

The DACA program has been a major success. A national survey found that 64% of DACA recipients say they're less afraid because of their status and 84% now have a driver's license. Nearly 60% of DACA beneficiaries obtained a new job since receiving DACA, and 45% increased their earnings. Many have opened a bank account and were able to obtain their first credit card. Learn about both studies in DACA Success.

Many experts believe DAPA will raise up immigrants' freedoms and incomes in the same way.

Workers' Rights

According to the AFL-CIO, undocumented workers face the highest rates of wage theft, sexual harassment, injury and death on the job. Stopping exploitation will protect wages and working conditions. With a DAPA grant, you have the right to work in the United States, and you don't need to be afraid about reporting abuses of your rights on the job.

After you are hired by an employer, the employer should ask you to complete an I-9 employment eligibility verification form and to provide documentation that proves your right to work legally in the U.S. At that time, you can present your work permit. An I-9 is simply a form that the employer uses to verify that you may legally work. Provide only valid documents issued to you, and you will have no reason to worry.

DAPA will protect immigrant workers from being exploited by unscrupulous employers. When immigrant workers have a work permit and receive temporary protection from deportation through deferred action, you have more freedom to speak your opinion and assert your rights in the workplace without the fear of being reported to ICE in retaliation.

Traveling with DAPA

As an immigrant without legal status, any kind of travel is risky. Most undocumented immigrants are forced to live a life very close to home, fearing exposure if traveling far. This prevents many from visiting family members in other countries or even traveling with the United States for vacation.

Travel within the United States
Any time you travel within the United States, you are increasing your chances of coming into contact with law enforcement and/or immigration officials. Most immigrants without legal status are not able to board commercial airlines; a government-issued ID is required. Even if you are able to board a flight (e.g. you may have a valid passport from your home country), you could still be stopped at some point at a Customs and Border Protection checkpoint.

Immigrants with DAPA will have much more flexibility when traveling. A grant of deferred action will result in an employment authorization card (work permit) – one form of identification. With the work permit, you can obtain a Social Security number, and most immigrants will be able to apply for a state-issued driver license or state ID. These documents will facilitate travel within the United States.

Travel outside the United States
Traveling abroad as an undocumented immigrant is extremely risky and dangerous. Without legal immigration status, your options for re-entering the country are very problematic. Entering without inspection (evading an official entry point) or entering with fake papers will make you ineligible for DAPA and will likely result in deportation. Avoiding official ports of entry can also force immigrants into dangerous conditions that have been fatal for many.

Immigrants with DAPA may have the opportunity to travel abroad for certain reasons. To travel abroad and re-enter the United States, a DAPA recipient will most likely need to apply for Advance Parole. Advance parole is available for one of the following purposes:

Educational: such as semester abroad programs or academic research
Employment: such as overseas assignments, interviews, conferences, training, or meetings with clients
Humanitarian: such as travel to obtain medical treatment, attend funeral services for a family member, or visit an ailing relative

Once you have been granted DAPA, you may be able to apply for advance parole by using Form I-131, Application for Travel Document. Advance parole is only provided for the dates requested. It is not permission to travel abroad freely. The advance parole document must still be valid when you re-enter.

DAPA Costs

For some, the cost to apply for deferred action may be overwhelming. The USCIS filing fee for DAPA is expected to be comparable to DACA – $465. But this is a small price to pay to receive protection from deportation and the legal right to work in the United States, including higher paying jobs. For DACA applicants, many Dreamer loans were available to help finance the costs. Similar loan programs are expected to be available from organizations like Mission Asset Fund and other organizations. What's more, as a taxpayer you could qualify for a tax refund.

In addition, applicants with criminal histories or complicated immigration problems (e.g. previous deportation) should use an experienced immigration attorney. Attorneys' fees vary but can easily cost more than $3,000.

DAPA applicants with simple, straight forward cases will be able to file by themselves or use a service like CitizenPath to help them. The CitizenPath website will provide simple, low-cost support for the DAPA application. Applicants will receive guidance with easy-to-understand instructions, including Spanish support. If you are interested in learning more about CitizenPath's service, go to our DAPA page and add your email to our list. We will inform you when the application is ready.
How to Prepare for DAPA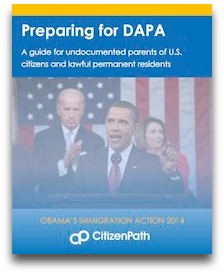 The DAPA application is expected to be released by USCIS in May 2015. Don't spend your time waiting. There are things you need to do to get ready. The application process will require paperwork that may take time to collect.
CitizenPath has produced a free guide to help you prepare for DAPA. You can download the guide from our website. Once you provide your email, we will also email you free DAPA information and discounts when the application is released.
About CitizenPath
CitizenPath is an online immigration resource that provides simple, step-by-step guidance through USCIS applications and petitions. Our low-cost service simplifies the application process by explaining each question and providing alerts if your answer to a question could be a problem. Most people do not need a lawyer to prepare USCIS forms, but many need a little assistance. That's where CitizenPath can help. CitizenPath provides support for the Citizenship Application (Form N-400), Green Card Renewal/Replacement (Form I-90), DACA (Form I-821D) and several other popular forms.