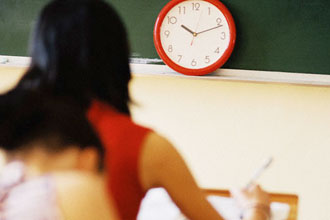 Applicants that are requesting consideration of DACA renewals are encouraged to apply as early as possible to minimize any possible lapses in coverage. DACA processing times are lengthy.
The problem is that USCIS acknowledges the processing times for DACA applicants is generally about 9 months. The national average for processing Form I-821D is 6 months. However, it is taking USCIS an additional 3 months on average to make a decision on Form I-765, Application for Employment Authorization. Unfortunately, USCIS does not begin reviewing the I-765 until they've made a decision on deferred action. Therefore the 3-month process to make a decision on Form I-765 does not begin until Form I-821D has been approved. You can view USCIS processing times here.
Exposure When DACA Expires
If a person's DACA status is expired, that individual could be without a valid work permit for a short time. The individual will not "fall out" of DACA protection status because once a renewal application is properly filed, that individual is protected. However, if the employment authorization card expires, technically, that person may not be able to work until the new card is obtained.
What You Can Do
Do not procrastinate. Prepare and file your DACA application early. CitizenPath recommends that you prepare your application up to 6 months before your current period of DACA expires and file it 5 months prior. In most cases, DACA candidates can renew themselves, without the assistance or cost of a lawyer. Not sure if you can do it? CitizenPath's step-by-step online process for preparing the DACA application:
Takes about 25 minutes to prepare all 3 forms
Uses 128-bit SSL encryption to protect your data
Hundreds of dollars less expensive than an attorney
Advises clients when there could be a filing problem
Is extremely affordable and free to try
If you change your mind or determine that you need a lawyer, there is no charge. Get the details.
DACA Resource Center
Additional information about Deferred Action for Childhood Arrivals is available in the DACA Resource Center. You'll find articles on Getting a Social Security Number, Getting a Driver's License, Building Credit after DACA, College Education for DREAMers, Employment Rights with DACA, Traveling with DACA and more.