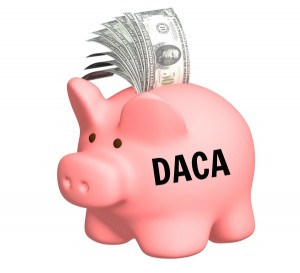 One of the major barriers to the Deferred Action for Childhood Arrivals (DACA) program has simply been cost. For an initial applicant, the $465 cost can be overwhelming. After all, an initial applicant doesn't have a work permit yet to earn the money. It may also be necessary to get professional help preparing the application. Even for DACA renewals, applicants may continue to struggle to obtain the necessary $465 USCIS fees. There are options for how to pay for DACA.
How much does DACA cost?
It costs $465 for first-time and renewal applicants of DACA. The total fee includes a $380 filing fee for Form I-765 (one of the three forms that must be filed) and an $85 biometrics fee. The fee doesn't vary based on age, income, country of origin or current state of residence. It is $465 for everyone.
Can I get a DACA fee waived?
Most people have to pay the full fee, but there are exceptions. You can ask to apply for DACA without paying the fee if you meet at least one of the following conditions:
You are under 18 years of age, homeless, in foster care, or under 18 years of age and otherwise lacking any parental or other familial support and your income is less than 150% of the U.S. poverty level,
You cannot care for yourself because you suffer from a serious chronic disability and your income is less than 150% of the U.S. poverty level, or
You, at the time of the request, accumulated $10,000 or more in debt in the past 12 months as the result of unreimbursed medical expenses for yourself or an immediate family member and your income is less than 150% of the U.S. poverty level.
| | | | | | |
| --- | --- | --- | --- | --- | --- |
| Household Size | 1 | 2 | 3 | 4 | 5 |
| 150% of U.S. poverty level | $17,235 | $23,265 | $29,295 | $35,325 | $41,355 |
How to apply for a DACA fee exemption
Send a letter in English requesting the exemption. USCIS must be able to identify the individual(s) who needs the exemption and the exemption category requested. Attach documentation (copies are acceptable) supporting your request. The supporting documents must be in English or accompanied by a certified English translation. The letter must be signed by the individual requesting consideration for the fee exemption. If the individual needing the exception cannot sign, provide an explanation and evidence that the person who does sign is a parent or legal guardian. Each person requesting to be exempt from paying the filing fee should submit their own letter. Multiple individuals should not be grouped into one letter.
Mail your request to:
U.S. Citizenship and Immigration Services
Attn: Deferred Action for Childhood Arrivals Fee Exemption Request
20 Massachusetts Ave., NW
4th Floor, Suite 4300
MSC 2300
Washington, DC 20529
For additional information, see USCIS DACA Fee Exemption Guidance.
Are there DACA scholarships?
Several credit unions and organizations sprung to action to offer DREAMer loans to applicants of the DACA program. Generally the loans provide a $465 personal loan for use with the deferred action application. Applicants do not need a credit history, they will need to provide a valid ID from any country, a valid individual taxpayer identification number (ITIN), and proof of physical address. Requirements may vary by loan program. To find a program near you, search Google for "dreamer loan".
Is an immigration attorney necessary for DACA?
If you have a straightforward case, many applicants have successfully filed DACA applications by themselves. However, if you have immigration violations or an arrest record, you should contact an immigration attorney before filing for DACA.
CitizenPath is an online immigration document service. That means that we can help you prepare the application with simple, step-by-step instructions and give you alerts if your answer to a question could be problematic. We're not a legal service, but we are a low-cost aid for the do-it-yourselfer that wants a little help. Once you're done, you get a neatly prepared application and filing instructions that have been customized for you. There is no signup or credit card required to try it out.