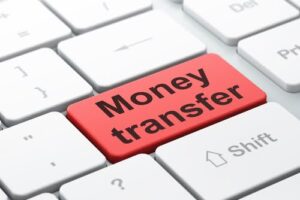 Your first thought when sending money abroad might be to visit your bank or maybe even the convenience of the services at your local Walmart. In fact, you can find remittance services — funds sent overseas by foreign-born residents — in supermarkets, convenience and drug stores, and stand-alone storefront operations. Today, the variety of options can make it complicated to shop for the best way to send money abroad.
Each year, U.S. households send an estimated $135 billion to families, friends, and others abroad. The United States is the world's largest source of remittances according to the Government Accountability Office. The graph below illustrates U.S. remittance amounts to the top 10 countries.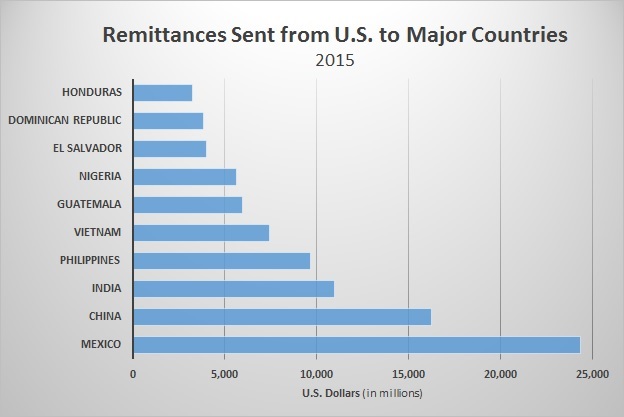 Source: The World Bank
For most people, the best way to send money abroad is also the cheapest. The vast majority of folks simple want to send money to family, friends or perhaps a business partner. The dollar amounts are considered small dollar when compared to the large wire transfers done by major corporations.
Bank Wire Transfers
Banks are the 800-pound gorilla for U.S.-based personal money transfers. They wire billions of dollars in person-to-person payments each year. The cost to send money abroad from a U.S. bank averages about $40 — and there's sometimes a fee on the receiving end too.
Watch out. Banks provide a less favorable foreign exchange rate than what they charge other banks. This adds to your costs when sending money abroad. Banks may also have different outgoing wire fees depending on how the transfer is initiated: online or in-person. There can be many different costs when doing a money transfer through a bank.
Non-Bank Options
Western Union and MoneyGram have emerged as some of the best known companies with the most options to send money abroad. Most of the non-bank providers offer longer hours, giving you more flexibility in when you can send money abroad. Some remittance services even deliver money as cash at locations abroad and as balances on mobile phones. You can even send money by charging your credit card. But, this still doesn't mean they are all low cost.
Although they offer some advantages over banks, they can also have higher fees and less-favorable exchange rates compared to new services such as TransferWise and Xoom.
Thanks to the Internet, the money transfer marketplace is changing for the better. Online, specialized players like TransferWise and Xoom have entered the market and have reduced costs even more. We found the best way — the lowest cost way — to send money abroad.
Costs to Send Money Abroad
When comparing costs to find the best way to send money abroad, it's important to understand two separate costs. That's right, money transfers generally involve two different costs that must be added together.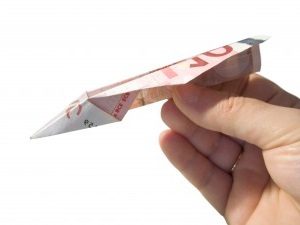 First, there is a flat fee charged by the money transfer company that's doing the transfer for you. This may be small, perhaps $5. The second cost is the exchange rate that the company offers you for the transaction. This hidden cost is the amount of the new currency that your recipient will receive in exchange for the dollar. For example, Company A may give you less Mexican pesos in exchange for $100 compared to Company B. That's because Company A is keeping the extra pesos. It's extra profit for Company A. The two of these costs (flat fee + exchange rate) together makes the "effective exchange rate." You want to highest exchange rate possible.
Finding this effective exchange rate can be difficult. Banks and other institutions don't want to make it easy for you. Because this is where they make their money.
Don't get confused by the interbank rate. The interbank rate, also known as the mid-market, rate, is the rate that big banks charge each other for loans. This rate will generally always be a little better than the exchange rate that what you will actually be charged by your bank. The exchange rate from banks and most money transfer companies is a little higher because they want to make some additional money from you on the transaction.
Cost Comparisons for Sending Money Abroad
To sample costs by money transfer companies, we looked at two of most popular destinations for U.S.-based money transfers: China and India. We used $200 as the total transaction amount and converted it to Chinese yuan and Indian rupee. All transactions assume that the sender is sending the money to the transfer company via a U.S. bank account. Again, the total cost (including fees) is $200. So the important number to look at is the number of yuan (or number of rupee) received in exchange.
Chinese Yuan (CNY)
Service
Service Sender Fee
Exchange Rate
Effective Exchange Rate
Yuan Delivered to Recipient
TransferWise
$6.62
6.6312
6.5112

1,302.24

Best Value

Western Union
$5.00
6.4890
6.3268
1,265.36
Money Gram
$8.00
6.5410
6.2794
1,255.87
Xoom
$8.88
6.5160
6.2267
1,245.34
Wells Fargo
N/A*
*Wells Fargo cannot provide money transfers in yuan (only U.S. dollars)
Data and exchange rate as of 8/18/2016
Indian Rupee (INR)
Service
Service Sender Fee
Exchange Rate
Effective Exchange Rate
Rupees Delivered to Recipient
TransferWise
$2.70
66.8525
65.9500

13,190.00

Best Value

Xoom
$2.99
66.0500
65.0626
13,012.51
Western Union
$5.00
66.5000
64.8375
12,967.50
Money Gram
$4.00
65.9970
64.6771
12,935.40
Wells Fargo
$5.00
65.9996
64.3496
12,869.92
Data and exchange rate as of 8/18/2016
In both examples above, TransferWise is the best way to send money abroad. Although there was a slightly higher flat fee from TransferWise for the Chinese yuan transaction, the company provided a substantially better exchange rate. As a result, the recipient in China gets the most yuan for the same $200. In the case of the Indian rupee, TransferWise provided the best flat fee and the best exchange rate to send money to India.
Why TransferWise is the Best Way to Send Money Abroad
TransferWise is the best way to send money abroad because TransferWise gives you the real interbank exchange rate. Combined with a low, fair service fee, they have the best effective exchange rate. That means you get the best value, and the recipient of your transfer gets the most for every dollar you transfer. The proof is in the sample quotes above.
In fact, a leading market research company, TNS, recently determined that TransferWise is up to eight times cheaper than banks. TransferWise can do this by using a peer-to-peer network. It has reserves of currency in each country that it operates. So when you pay into the U.S. currency pot with dollars, your recipient is paid out of the yuan, rupee or other currency pot. It's really very clever. This way the money doesn't actually have to be exchanged, and you get the best value.
TransferWise even has an app (Apple and Android) so that you can send money abroad at the lowest possible cost.
90% cheaper than your bank
Avoid hidden fees – no nasty surprises
Fastest way to transfer money abroad
Send money via ACH bank debit
How It Works
TransferWise uses a peer-to-peer platform that matches your payment with one or several other people who are making an opposite exchange. It's harnessing the power of the community to give users a better service — and the best way to send money abroad.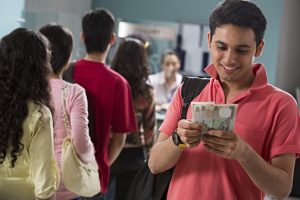 If there's nobody to swap it with, then TransferWise goes out to the interbank market and buys the missing currency in. The system is based on free or extremely low-cost local bank account transfers. Money never crosses borders so they can cut out exorbitant bank charges.
Although it is a peer-to-peer platform, your recipient doesn't actually get the specific money that you send. It's done using the company's reserves so you don't need to rely on being matched up with someone else.
Look beyond the service fee when transferring money abroad. Know the hidden costs in the exchange rate used by most money transfer companies. Or, make it easier on yourself and use the company that doesn't have any hidden fees – TransferWise. Get more rupees, pesos, yuan or whatever you need for every U.S. dollar. TransferWise is the best way to send money abroad.
About CitizenPath
CitizenPath is the online service that makes immigration forms simple. The website provides simple, step-by-step guidance through USCIS applications and petitions. The low-cost service helps to simplify the process by explaining each question and providing alerts if your answer to a question could be a problem. Most people do not need a lawyer to prepare USCIS forms, but many need a little assistance. That's where CitizenPath can help. CitizenPath provides support for the Petition for Alien Relative (Form I-130), Citizenship Application (Form N-400), Green Card Renewal (Form I-90), and several other popular forms.