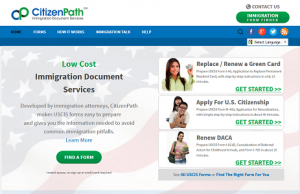 Immigration forms are available for free on the USCIS website. You can prepare the USCIS applications and petitions by yourself. The problem — USCIS does not make this easy. The forms have long and confusing instructions. And often the instructions don't answer your questions. What's more, mistakes can create costly delays for your application. At worst, problem answers can create long-term immigration problems for you.
Immigration attorneys can help you through all this. They'll prepare the form for you, but they'll charge a lot of money.
CitizenPath was created to give immigrants an affordable way to prepare USCIS immigration forms accurately. Here are 8 ways CitizenPath helps immigration filers:
Prepare with
CitizenPath
Prepare
Alone
Instant Alerts Help Prevent Mistakes

?

Simple Instructions

?

2D Compliant for Quick Processing

?

Less Questions, Faster Application

?

Ensures Completeness

?

Secure Save & Resume Later

?

Personalized Filing Instructions

?

Friendly, Live Customer Service

?
We're so sure that you'll like our service, we let you try it without paying. There is no sign up or credit card required to try it out. If you decide you like it, we ask you to pay a very affordable price to print your completed form and customized filing instructions.
Popular USCIS Forms
Form N-400, Application for Naturalization
Form I-90, Application to Replace Permanent Resident Card
Form I-821D, Consideration of Deferred Action for Childhood Arrivals (DACA)
Form I-765, Application for Employment Authorization
Form G-639, Freedom of Information/Privacy Act Request
Form G-1145, E-Notification of Application/Petition Acceptance (free)
Form AR-11, Alien's Change of Address Card (free)