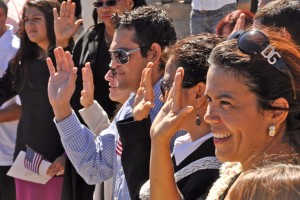 In case you missed it, USCIS released a new version of Form N-400, Application for Naturalization, in February that is double the size of its predecessor. As of May 5, 2014, USCIS will only accept the new version.
The good news is that CitizenPath will continue to offer the shorter version for a few more days. According to USCIS, there are more than 7 million permanent residents in the U.S. that are eligible for citizenship. If you are one of them, you should act before April 20th to beat the citizenship deadline. Here's why:
| | |
| --- | --- |
| | You can still get $50 off of the preparation fee from CitizenPath until 4/20/14. Simply use coupon code "CITIZEN400" at check out. |
| | If you are naturalized by November 2016, you can vote for the next president and have a voice on important issues such as immigration and healthcare. |
| | CitizenPath will use the shorter version of N-400 only until 4/20/14. After that we must switch to the updated version. |
Not sure if you're eligible? Use CitizenPath's step-by-step, online process to check your eligibility. It is completely free to check your eligibility and use our service to prepare your N-400. Pay only once you are completely satisfied and ready to print. Remember to use your $50 discount at checkout. Try it now.